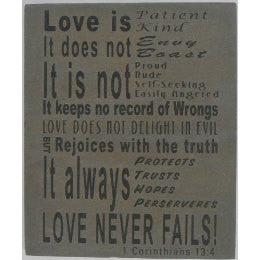 GraphicRocks
Inspirational Garden Stepping Stone Engraved Natural Stone Decorative Wall Art "Love is Patient Love is Kind" 12" x 10" NS
Inspirational "Love is Patient Love is Kind" Engraved Natural Stone Decorative Stepping Stone 10" x 12"
We all need a reminder of the "little" things in life...
Makes a wonderful garden stone or can be used indoors as a decorative piece.
If you would like a more customized piece, please contact us and we will be happy to help you.
This natural stone measures about 10" x 12" and is approximately 1" thick.
All stones will vary slightly in color, size and surface.
All custom orders are deep engraved by expert craftsmen for superior quality.
Finished stone to last a lifetime
Engraved on High Quality Stone
Made In USA